Indira specializes in Indian cuisine cooked in traditional ways. Our naan bread has to be tried! Cooked in a traditional tandoor and you can get unlimited plain naan with our lunch sets!
At dinner choose from an extensive menu featuring over 17 different types of naan bread! There's also many vegetarian curries including a must try local Okinawan goya curry!
Our Indian specialties include dosa, idli and chapati as well as dals and sambar.
Chapati
1 sheets / 250 yen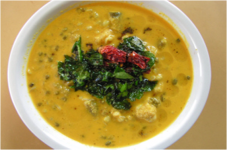 Hyderabadi Biriyani 4 or more, Reservation required
1 Person 1200 yen
Vegetable Biriyani
800 yen
Malai Kofta (Vegetarian)
900 Yen
Tandoor Chicken (Whole)
1800 yen
Including bacon cheese naan, ginger honey naan, garlic cheese naan and for dessert our chocolate naan!
If you're a naan lover you'll never get bored at Indira!
We offer authentic Southern Indian cuisine cooked by a local chef. Try out southern Indian specialties like dosa, idli and chapati as well as dals and sambar. We also offer "Mirusu"; a selection of dishes traditionally served on a banana leaf but here served on a platter designed for mixing
Opening Hours
Monday – Sunday (Closed Wednesday)
11am – 3pm & 5pm – 10pm
Payment & Parking
Free Parking Available
We accept ¥, Credit Card & Apple Pay